Science, Technology, Innovation, Culture, and the Role of Ecumenical Solidarity
Article published in the GOOD WILL Sustainable Development magazine forwarded to the United Nations in July 2013.
It gives me great pleasure to greet the hardworking signatories of the eight Millennium Development Goals, Heads of State and Government, representatives from international agencies, from the private sector, and from civil society, present at the High-Level Segment of the Economic and Social Council (ECOSOC) in 2013, in the Palais des Nations, the United Nations Office at Geneva (UNOG), Switzerland. Bringing our humble contribution and support, we are joined in yet another effort in favor of a better future, one in which everyone has access to an existence deservedly worthy and egalitarian in duties and rights. Important steps have been taken and achieved, but there is still a lot to be done before we can experience the citizenship granted to us by life in community, a global and solidary community, which I call Ecumenical Citizenship. And our tool for building the Ecumenical*1 Citizen is something we cannot lose sight of: the universalist spirit, whose instrument is Solidarity, enlightening minds and feelings. The Ecumenical Citizen is one who does not waste time on intolerant conflicts with others—just because they do not share the same social, political, or religious thinking, or do not belong to the same race or culture—but one who joins forces with others to reduce the overwhelming need that affects communities, the masses, or a single individual.
Therefore, the theme proposed for this event of the United Nations Economic and Social Council could not be more appropriate and up-to-date: "Science, Technology and Innovation, and the potential of culture, for promoting sustainable development and achieving the MDGs".
The most powerful tool against global poverty
For 63 years the Legion of Good Will (LGW) has been waging a daily battle against hunger and inequality and in favor of sustainability, never forgetting to undertake the Herculean struggle against the needs that are the most urgent, which directly hinders the success of any attempt at beneficial transformation on Earth: the lack of solidarity, brotherhood, mercy, justice; consequently, the aridity of the Spirit and the heart.
For this very reason, I would like to initially remind everyone of what I wrote in the Globalization of Fraternal Love magazine, which was sent to the ECOSOC High-level Segment in 2007, also held in the Palais des Nations. In it I presented, among other topics, an extract from an interview I gave on October 18, 1981, to an Italian journalist living in Brazil, Paulo Parisi Rappoccio, in which I state that Solidarity has expanded itself from the luminous field of ethics presenting itself as a strategy, so that human beings may achieve and guarantee their own survival. To combat the globalization of poverty, we counterpose the globalization of Brotherhood, which spiritualizes and ennobles the Economy and disciplines it in a solidary way, as a strong instrument for reacting to the pseudofatalism of poverty. . . . We are not asking for a sudden miracle, even though nothing is impossible, but the strengthening of an ideal that establishes itself stage by stage, until it completes its extraordinary service.
And in this manner I concluded this part of my talk with journalist Paulo Parisi.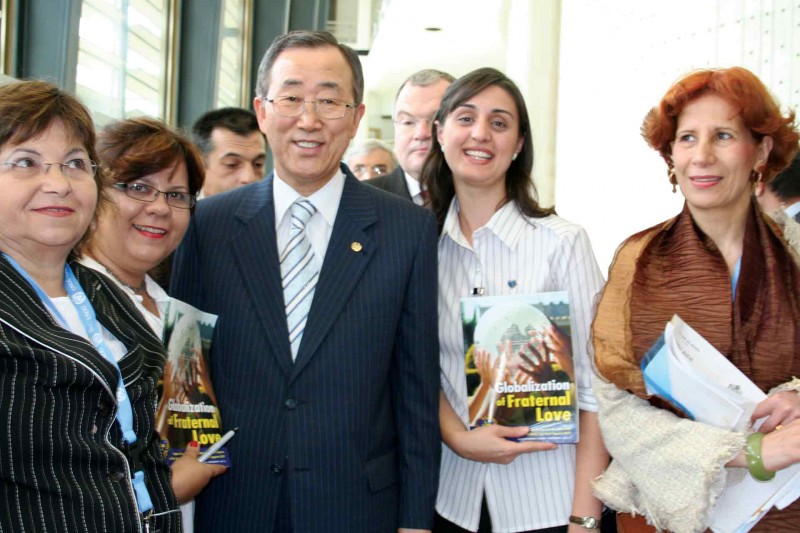 Solidarity to lever the objectives
It is fundamental to ally the Technology, Science, Innovation, and Culture formula with Ecumenical Solidarity, so that this transition to a complete sustainable development may be urgently achieved. When these tools of progress are integrated by the authentic sense of Brotherly Love and Justice, which distinguish us from wild animals, we shall be able to cease the horrors that still persist in the world, which are, as listed in the eight Millennium Goals—hunger; poverty; lack of access to quality education; disrespect for gender equality and for women and girls; child mortality; the inhumane conditions of pregnant women; AIDS, malaria, and other extremely serious diseases that decimate entire populations; the despoliation of the environment, etc. In addition to overcoming all these ills—however long the struggle lasts—it is our duty to build together a new development model that effectively preserves life on this planet.
Globalization of poverty and the center of the Altruistic Economy
In my article "Independence," published by the Correio Braziliense newspaper, of the Brazilian capital, on September 7, 1986, I praise the fact that the human being, with his/her Eternal Spirit, is the center of the Altruistic Economy, the generator of all progress. Without him/her, there is neither work, nor capital, nor a consumer market.
Gandhi (1869-1948) used to say that:
"Capital as such is not evil; it is its wrong use that is evil."
The wealth of a country lies in the hearts of its people. Nevertheless, entire nations still suffer with poverty. It should be remembered that empty stomachs and frustrated Spirits are generally unwilling to listen. . . .
In times when production expectations exceed projections due to the technological advances, hunger is truly a scandal! It is not just the hunger of the body, but also for knowledge, that is, spiritualized Education, without which no nation can be strong. Anachronistically, never has the world known so much abundance in one side, and, on the other, so much penury. And this may certainly lead the planet to a new series of unimaginable wars and unthought of epidemics. Buses, trucks, ships, and airplanes are there to spread them. It is the globalization of misery and, therefore, of hunger and of the most unexpected diseases . . . .
Returning to the interview I gave to my journalism colleague Paulo Parisi, I emphasize that we can no longer postpone illuminating Economics with the ethical light of Charity*2, so that the inordinate craving for capital, in other words, corruption and greed, does not destroy the democracy that—let us say—has been consolidated in some places and is just beginning in others. On the contrary, we shall continue to watch in horror the denial of the right to freedom, life, health, education, employment, and happiness of multitudes that dared to be born.
Sublimed technology
We cannot live isolated inside a technological bubble that does not share its beneficial effects and excludes those populations that do not have access to cutting edge science. That is one of the great challenges in the discussions we are holding here, in this event at the United Nations.
In the 1980s, when writing for the Folha de S.Paulo newspaper of the city of São Paulo, Brazil, I affirmed that civilization had never before achieved such a degree of technology. I immediately asked the following question and replied to it: What then is missing for there to be Peace? To sublime progress actions with Ecumenical Spirituality, which potentially accompanies us—whether we know it or not, and whether we want it or not, reason why we, as nations, are still alive.
The right to defense
We must always fight for Peace, but not be incapable of defending ourselves, naturally without the ferocious and destructive spirit of revenge, because it morally confuses people. Let us never be, therefore, accomplices to what is wrong, but incorporate in our Souls this noble and civilizing alliance as the feeling of benevolence that is born in the heart . . . . In order to make this reasoning clearer, I turn to this warning from Confucius, with which I have identified myself with since I was young. From the height of his millennial wisdom he says:
"Repay Kindness with Kindness, but evil with Justice."
The famous Chinese thinker was obviously not referring to revenge, which is diametrically opposed to the sense of true Justice.
Civilization and technology for Peace
In the Peace for the Millennium magazine especially produced for the Millennium World Peace Summit, promoted by the United Nations in August 2000, in its Headquarters in New York, I argued: Is there something missing in global technology? Yes, heart and mind (in other words, a greater partnership between feeling and intellect), the globalization of Solidarity, in a way that, among other things, the Internet be an ever more powerful path for Peace and transformation, including social change, and not the altered nervous system of the technological society.
For this reason we propose living in a Solidary, Altruistic, and Ecumenical Society, where there is no room for the constant lack of humanity from Humanity itself towards itself, which creates so many victims during its development process. However, if progress did not exist, we would be living in the primitive age of human beings.
In the page "Vocation for progress," published in the Jornal de Brasília newspaper of Brazil's capital city, on November 16, 2010, in which I reproduced excerpts from my book Cidadania do Espírito [Citizenship of the Spirit] (Elevação Publishing House, 2001), I argue that the day when Science goes beyond the boundaries that were established, not by itself, but by some fearful coryphaei of its enlightened area of activity, Humanity will no longer know any obstacles to fulfilling its magnificent destiny of being a civilized civilization. . .
Without Ecumenical Brotherhood there is no planet
I always defended and put in my articles in the press and on the Internet that there are no limits to the solidary expansion of the Capital of God: the human being with his/her Eternal Spirit.
Therefore, the best technology to be developed in these times of unbridled globalization is of the knowledge about ourselves. It is superior to any technological discovery, because it has the power to prevent individuals (whether they have access to computers or not) from falling once and for all into suffering for having sunk into the most complete barbarism.
Without a sense of Ecumenical Brotherhood, we would put an end to the planet, keeping our brilliant brains, but having opaque hearts. The longed for reform of society will not come in its fullness if the Spirit of the citizens are not taken into account. . . . Yes, the world always needs the reform that provides food and education; however, it equally needs the indispensable nourishment of Love and, therefore, of respect.
Solidarity and Brotherhood are precisely the fuels that motivate the diligent action of all the idealistic social actors in the international community.
Peace and understanding among nations
If technology, then, overcomes human barriers (the Internet is an example of this) it is essential for Solidarity to develop itself ahead of it, in order to illuminate its paths. We have never been at a more auspicious moment for demonstrating how potentially great the possibilities are for using it in the service of nations.
Summoned by Science, Technology, Innovation, and Culture, but without ignoring the exalted spirit of human solidarity, at the conclusion of this meeting may we embrace together an agenda of accomplishments based on a common understanding that the members of the UN, since its foundation, have pursued, as have the Women, Men, Youth, Children, and the Spirits of true Goodwill.
My sincere thanks to everyone.
I conclude by leaving you with the words of Peace of some of those who, throughout history, have made and still make every effort to build a better world:
"A New Commandment I give you: Love one another, as I have loved you. . . . There is no greater Love than to lay down his own Life for his friends." (The Gospel according to John, 13:34 and 15:13)
Jesus Christ
"You cannot attain to righteousness until you spend freely of what you love. But what you spend, of that Allah is aware."
Prophet Muhammad (570-632)
"May the peace and blessings of God be upon him!"—Islamism.
"God created the human being in such a way that he can only be happy by doing Good."
Alziro Zarur (1914–1979), journalist, radio broadcaster, poet, and social activist. He founded the Legion of Good Will (LGW) on January 1, 1950 (World Peace and Universal Brotherhood Day).
"The construction of a pacific world is not something that can be carried out by drafting a treaty. Time is required to prepare relations between human beings, but if we aspire to Peace, this must be done."
Eleanor Roosevelt (1884-1962), former First Lady of the USA and notable Chairperson of the UN Commission on Human Rights.
"Justice is the support of the world and injustice is the source of all the calamities that afflict it. If humanity, compassion, and sensitivity are necessary virtues for society, their absence must be considered odious and criminal."
Baron d'Holbach (1723-1789), French-German atheistic philosopher and encyclopedist.
"We don't want to impoverish the rich or weaken the powerful. We want a balance of strength and a fairer access for people to instruments of prosperity and to the sources of humanity's well-being."
Oswaldo Aranha (1894-1960), Brazilian lawyer, politician, and diplomat, in a speech during the 12th Ordinary Session of the General Assembly of the United Nations, in 1957.
"Well-being in life is achieved by improving the good coexistence among men."
Mosheh ben Maimon (1135-1204), Jewish doctor, philosopher, and theologian.
"I dream of the day when everyone will rise up and understand that we were made to live as brothers."
Nelson Mandela, lawyer, former President of South Africa, and Nobel Peace Prize winner (1993).
"To all who suffer and are lonely, give always a happy smile. Give them not only your care, but also your heart."
Mother Teresa of Calcutta (1910-1997), missionary and Nobel Peace Prize winner (1979).
"We must love them both, those whose opinions we share and those whose opinions we reject."
Saint Thomas Aquinas (1225-1274), philosopher and Catholic theologian.
"Social work needs the mobilization of efforts. Each one collaborates with that which they know how to do or with what they have to offer. In this way, the tissue that sustains the action is strengthened and each one feels that they are a cell for transforming the country."
Zilda Arns (1934-2010), Brazilian pediatrician, sanitarian, and founder of the Pastoral of the Child.
"If one puts duty first and success after, will not that improve one's character?"
Confucius (551-479 B.C.), Chinese thinker and philosopher.
"Trees are an essential part of my life and have taught me many wise lessons. Trees are the living symbol of peace and hope. A tree is rooted in the ground, but reaches high in the sky. It tells us that we should have a strong base if we want to achieve something. It reminds every successful person that we should not forget where we come from."
Wangari Maathai (1940-2011), Kenyan professor, environmental and political activist, and Nobel Peace Prize winner (2004).
"There can be no peace, no progress as long as there is discrimination and violence against women."
Michelle Bachelet, physician, politician, former President of Chile, and former Executive Director of UN Women.
"There is no future without forgiveness for the relationship among individuals, nor between nations."
Desmond Tutu, Anglican archbishop and Nobel Peace Prize winner (1984).
"There is no happy life, individual or collective, without an ideal."
Anália Franco (1856-1919),Brazilian spiritist teacher, journalist, poet, and philanthropist.
"The problem itself arises only when the material conditions for its solution are already present or at least in the course of formation."
Karl Marx (1818-1883), German materialistic atheist, economist, and historian.
"When a ship's carpenter needed timber to make a mast for a sailing vessel he did not cut it in the valley, but up on the mountainside where the trees had been buffeted by the winds. These trees, he knew, were the strongest of all. Hardship is not our choice, but if we face it bravely it can toughen the fiber of our souls."
Billy Graham, North American Evangelist.
"Hatred does not cease by hatred, but only by love; this is the eternal rule."
Siddhartha Gautama (approx. 556-486 B.C.), Buddha, the founder of Buddhism.
"Peace cannot be kept by force. It can only be achieved by understanding."
Albert Einstein (1879-1955), Jewish-German theoretical physicist and Nobel Prize in Physics winner (1921).
"Emptiness promotes emptiness. But content builds freedom, particularly if it is backed by the roots of the Spirit, which are the foundation of Eternal Life."
Dr. Adolfo Bezerra de Menezes Cavalcanti (Spirit) (1831-1900), respected doctor, soldier, writer, journalist, and politician, who was known in Brazil as the "Doctor of the Poor".
"The man of devotion is beneficent to all. He is beneficent because of his wisdom, because of his realization of truth, because of the goodness in his thoughts, in his words, in his acts."
Zoroaster (628-551 B.C.), founder of Zoroastrianism.
"There is only one thing in this world which is worth dedicating all your life. This is creating more love among people and destroying barriers which exist between them."
Leo Tolstoy (1828-1910), Russian writer.
_____________________
*1 Ecumenical — The Ecumenism to which the author refers to is a concept that has been propagated by the LGW since its origin in Brazil, rescuing the etymological meaning of the term—"of worldwide scope or application; universal"—thus, not restricted to any particular religious aspect. Hence the statement of the president of the Legion of Good Will: "We urgently need to strengthen the ecumenism that overcomes barriers, appeases hatred, and promotes an exchange of experience that instigate global creativity, corroborating the value of socio-humanitarian cooperation of partnerships, such as in popular cooperatives in which women play a strong role, and emphasizing the fact that they are completely against waste. There is really a lot to learn from each other."
*2 Charity — Read more about the ample definition of the author on this subject in the magazines Solidary Society and Globalization of Fraternal Love. Access: www.boavontade.com. Regarding this fundamental feeling, Paiva Netto also writes: "Charity is the gravitational center of the Spiritual Citizen's ideological consciousness, therefore, his/her educational, political, social, philosophical, scientific, religious, artistic, sporting, domestic, and public awareness, in a way that—if the human being does not understand it—he/she must make an effort to comprehend it in order to make it exist in his/her inner self."