Several Degrees of Knowledge
Source: Reflection of Goodwill, taken from the book "Tesouros da Alma" [Treasures of the Soul], November 2017.
We are all children of the same Father, or of a single planet, as the skeptical line of thinking imagines, for it still does not admit the reality of a Superior Celestial Intelligence. Scientific thinking, however, by virtue of a Reason that is free from dogmas, prejudice, and taboos, will get there.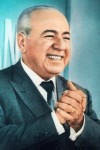 Brazilian thinker Alziro Zarur (1914-1979) wrote: "There are as many religions as there are degrees of understanding of human beings, according to the sum of their incarnations."
Analyzing this quote from the great journalist, radio broadcaster, writer, philosopher, social activist, and founder of the Legion of Good Will (LGW), Alziro Zarur, I can ecumenically conclude that, following the same reasoning, there are several perspectives for understanding Philosophy, Politics, Economics, Art, Sport, Sociology, Physics, Chemistry, Anthropology, Psychology, Psychoanalysis, and other areas of human knowledge.
Ethical Ecumenism
That is why respecting the opinion of others is a clear definition of Ecumenism, which, in turn, in no way suggests abandoning any commitments made to a community. Being ecumenical is also being responsible; therefore, it means no harm to the elementary principles of ethics.