Human Beings of Peace
Source: Jornal de Brasília newspaper, Tuesday, October 2, 2012 edition | Updated in 2017.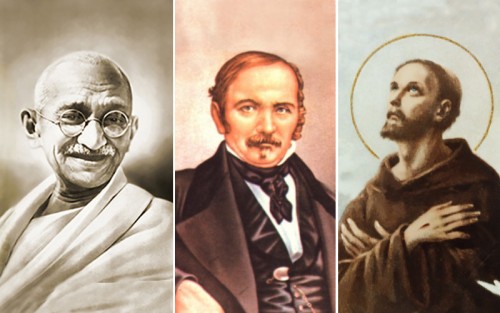 Due to the relevance of their contributions to us, I want to talk to you again about three significant figures of Humanity who are celebrated in early October: Mohandas Karamchand Gandhi (1869-1948), on the 2nd; Hippolyte Léon Denizard Rivail, better known as Allan Kardec (1804-1869), on the 3rd; and Saint Francis of Assisi (1181-1226), Il poverello, on the 4th; the latter is the patron of the Legion of Good Will (LGW). Each one, in their time and field of action, knew how to work hard in favor of Peace. Gandhi, an Indian lawyer, led the liberation of his people, preaching non-violence; Kardec, a French educator, codified the science of the Spirits for human rationale; Saint Francis of Assisi, a young Italian idealist, shared universal love with all the kingdoms of Nature.
They represent a great deal of what the world is so much lacking in: diplomatic perseverance in the general good, higher spirituality in daily actions, and complete charity that respects and protects without distinction. Let us learn the lessons they left us.