Unmasking the Anti-Christ
Source: A Reflection of Goodwill taken from the book "A Missão dos Setenta e o 'lobo invisível'" [The Mission of the Seventy and the 'Invisible Wolf'], June 2018. | Updated in November 2019.
In the radio series "The Unified Gospel of Jesus"—which was aired on the Good Will Super Radio Network in the 1990s—I presented my point of view on the true face of the anti-Christ. At some point in my impromptu lecture, which was broadcast live, I pointed out:
What can be more anti-Christ than hate? Some people are just waiting for a monster, but one must get rid of the stereotyped symbolism that leads people to expect something phantasmagoric, while the problem is here, in this very material world, and has been here for centuries. The Apocalypse itself mentions many anti-Christs. However, the explanation out there about them is very restrictive.
Stereotypes usually distract people, while the anti-Christ action is, in reality, wrath, rape, femicide, pedophilia, cruelty, domestic violence, corruption, impunity, and whatever else dishonors the Spirits, human beings, citizens, families, communities, societies, the nations, the world.
And the anti-Christ is also some kind of "invisible wolf"—an obsessing spirit—that must be banned from inside creatures. It is Babylon,*1 a non-admirable part of ourselves.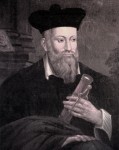 In a letter written to Henry II (1519-1559), King of France, Nostradamus (1503-1566) tells us that, "Apostasy will be close to total."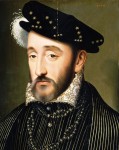 The Salon*2 seer described the activity of the anti-Christ in those few words.
Master Jesus, in His turn, describing the times we are living in, declared: "Because of the increase of wickedness [in the world], the love of most will grow cold, but the one who perseveres to the end will be saved." (The Gospel of Christ according to Matthew 24:12 and 13)
______________________
*1 Babylon — The Apocalypse of Jesus according to John 14:8, 16:19, 17:5, 18:2, and 18:10.
*2 Salon — French city where Nostradamus lived.