Solidarity is not Utopia
When history teacher Iramara Fluminhan entered her classroom a few days ago she was surprised by her students with an unforgettable gesture of love and solidarity.
The students are in the 8th grade and attend the Good Will Educational Complex in São Paulo, Brazil, and their noble purpose was to show their affection for their beloved teacher when they found out that she is facing a great challenge in her life.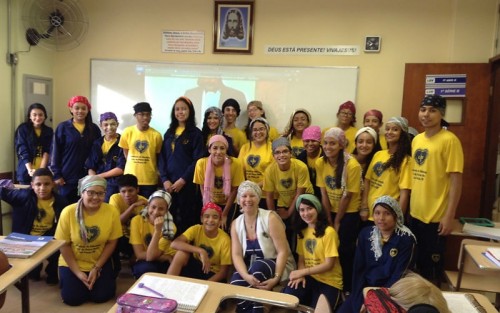 The young people went to class with headscarves similar to the ones used by Iramara, who is temporarily wearing this item of apparel because of the chemotherapy treatment she is receiving.
Isabele Vasquez, 15, the person behind this happy initiative, which was immediately adhered to by the other classmates, explained: "She's a teacher who gives advice in addition to being very competent and demanding. Everybody likes her a lot, because we know that this is all for our good." Renata Santana, 13, also commented: "This demonstration of affection is for someone whom we love a lot."
Iramara Fluminhan has been teaching for 15 years at the Good Will Educational Complex, where the Pedagogy of Affection and the Ecumenical Citizen Pedagogy methodology is applied.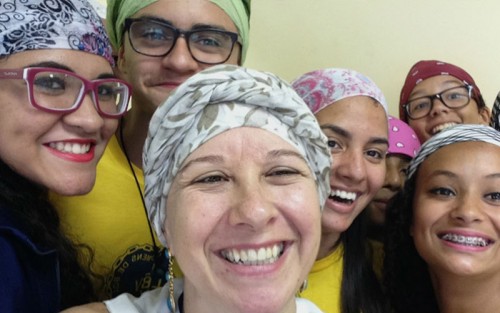 The demonstration of perseverance and enthusiasm of this dedicated teacher is also a worthy example: "I always say that challenges are gifts, no matter what they may be. I believe they appear at every moment in life and here I've learned about faith, which gives me strength. . . . I'd be far from doing what I do if this had gotten the better of me; I'd be very far from doing what I believe in and what I'm certain about. So the plans don't change. I live from day to day and get on with my work. I'm doing what I believe in and everything that's done with pleasure makes you want to get up every day and say: 'I'm going to experience one more day in my life.'"
As for the difficulty she is experiencing with her health, which was diagnosed in mid-2014, Iramara does not allow herself to become depressed. "I see so many people facing much more serious problems than mine, so I've no right to feel I'm more of a victim than any other human being who's suffering from hunger or who's been abandoned, for example. I'm grateful for the quality of the things I have, from the doctors to my work colleagues and my students," she says.
According to the teacher, there is a reason for this praiseworthy student action, which really deserves an A+: "Love, which is what we teach here [in the Educational Complex]. I'm an extremely demanding person. I ask a lot from them all the time, because they know that their future only depends on them. So I see this action by the students as an attitude of love, respect, and solidarity. Everything we teach here can be seen in the attitudes of all our students. They're no different from any other teenager . . . but they have love for each other, love for the school where they study, and love for their teachers."
This shows, therefore, that the education of solidary, generous, and just human beings is no Utopia. In fact, this lesson by the young people, the information of which I took from the Legion of Good Will's website, has been appreciated by netizens who are spreading it through the social networks. Good causes deserve to be shared with others.
May God bless your health, Iramara!