The Sounds of the Soul and the Listening Society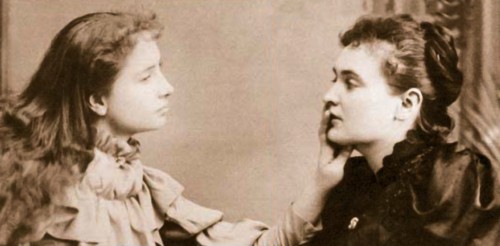 Worthy of respect and praise is the biography of the famous North American social activist, writer, and lecturer Helen Keller (1880-1968). Although it is known that she became blind and deaf at her eighteen months of age, with the indispensable support from her friend and teacher Anne Sullivan Macy (1866-1936), she became one of the most important icons in the fight for quality of life of the disabled people. One of her quotes that I most admire states: "Until the great mass of the people shall be filled with the sense of responsibility for each other's welfare, social justice can never be attained."
Courage and perseverance
Despite the warm feelings that stories like this provoke, it would be a mistake to believe that these are sporadic events of human courage and perseverance. Indeed, examples similar to Helen's can be found very often in our daily life. In terms of loss of hearing, almost 6 million people in Brazil are currently in this condition.
In an interview conducted by Daniel Guimarães for the Sociedade Solidária [Solidary Society] program broadcasted by Boa Vontade TV, actors Sueli Ramalho and Rimar Segala—siblings who are deaf from birth—narrated beautiful experiences from the life trajectory of both.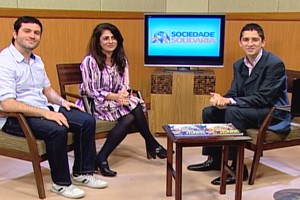 When asked about how she dealt with the absence of sound during her childhood, Sueli said: "I am the daughter of deaf parents, paternal grandparents and great-grandparents. For me it was normal. My mother tongue was always the Sign Language. I thought the world outside was disabled. We got so sad when we saw children in the street because we thought they were moving their mouths from hunger, since they didn't have chewing gum or candy in their mouths. What different world was this that did not have chewing gum? [laughs]. I wanted to teach all these people how to speak with their hands. That was my concern."
In turn, Rimar Segala, with gestures translated by his sister, commented that: "Sueli's trajectory was different from mine. Although we are both deaf, our way of communicating is totally different. Sueli learned to speak [with the help of a device]. I am still not able to speak. I would very much like to speak with the listening society [term used to refer to people who can hear normally]." Sueli added: "It was very difficult to learn Portuguese. It took me many years to learn to communicate with the listening society, because our resources are totally visual. I still 'suffer' with the Portuguese language!" [laughs]
Art and Silence Company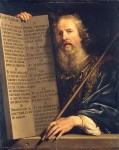 Founders of the Companhia Arte e Silêncio* [Art and Silence Company], they perceived from very early on through the influence of their father that education and art could be very valuable instruments in aiding the deaf people. Rimar explained that: "There was a lot of culture in my home. My father used to tell stories from the Bible, about Moses, and when I went to a special school for the deaf I noticed the lack of sensitivity regarding the didactic part, with the history of education for the deaf. Everything that I learned I got from my family. So I excelled at that school. When I graduated in Mathematics I ended up creating a narrative, an adaptation through it. I began to create stories. This pushed me towards the theater."
Reprodução Boa Vontade TV

Actors Sueli Ramalho and Rimar Segala
Continuing with the role of Education, Sueli affirmed that "the greatest difficulty that deaf children have is communicating with their own family. That is the first education. Many parents want to learn to communicate with their children, but do not know how. Some parents 'throw' their children in school thinking that teachers have to perform a miracle, as if deafness was a disease as they think it is because of misinformation. From that we produced the play 'A Orelha' [The Ear]."
Sueli continues: "We began to give classes in LIBRAS [Brazilian Sign Language] to the children's parents, while at the same time teaching them to perform a play for their children. Through humor, the play shows the reality of the deaf culture and how to approach a deaf person. Sign Language helped me speak. Do not prohibit the use of the hands. It is our resource, our vision."
LIBRAS
On April 24, 2002, Law No. 10.436 was enacted, making the Brazilian Sign Language official. However, anyone thinking that it is just a translation [through gestures] of the Portuguese language is wrong. It has its own structure and grammar. Rimar Segala explains that "Portuguese is an oral language; LIBRAS is visual [gestures, body and facial expressions]. . . ."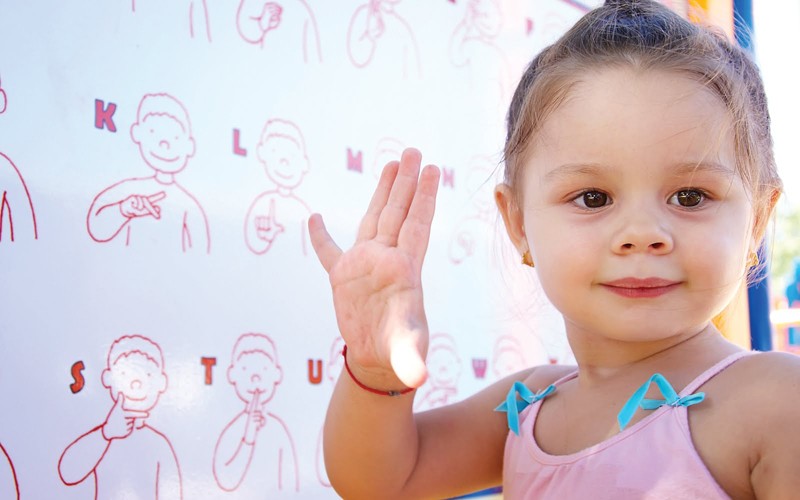 What few know is that deaf people also have different accents: "Take, for example, the gesture meaning 'mother'. There are many linguistic signs for this word". And to demonstrate the richness of LIBRAS, he presented different ways of saying "good afternoon" in various Brazilian States.
Uniting families
Analyzing the reality of many families, Rimar points out: "Every woman when becomes pregnant dreams of having a healthy, beautiful child. When it is born deaf, she becomes frightened by the difference and then enters into despair. Unprepared, the mother treats the deaf child as a listening child is treated. She does not perceive that the difference is simply cultural. This program is very important in terms of passing on information to all mothers who are watching us. If you have a deaf child, please, try to learn sign language, to understand all cultures. Respecting this great difference is an extraordinary investment in the future of the deaf, in uniting families."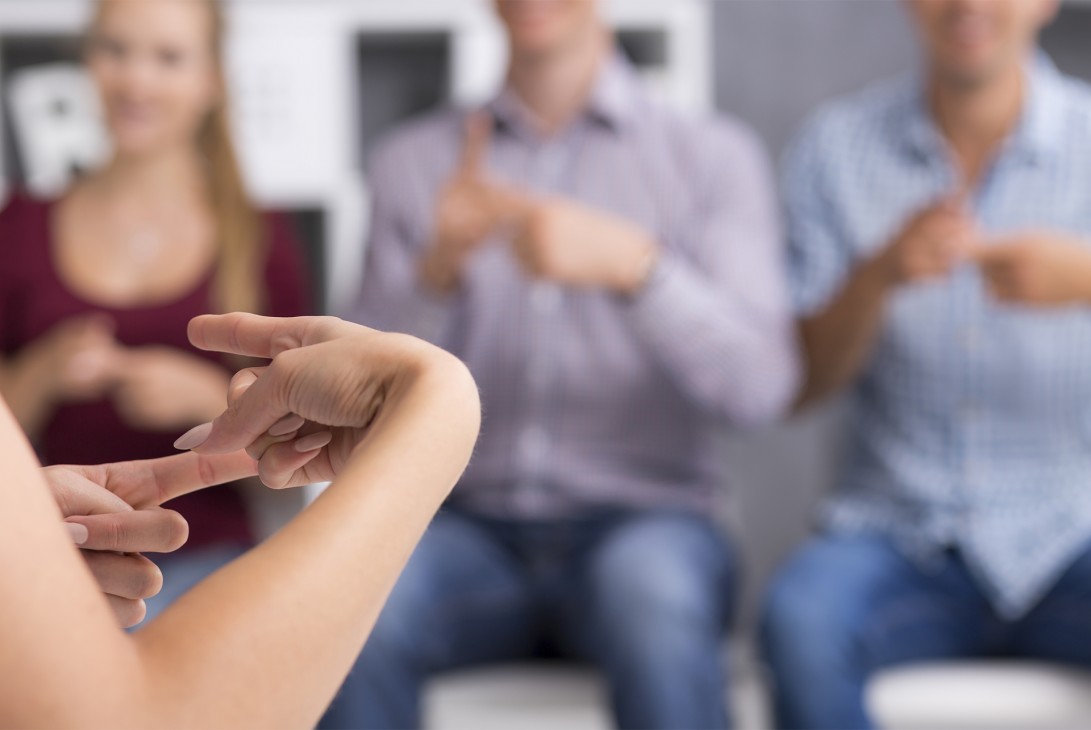 Another point of relevance is the insertion into the labor market. "Can deaf people work? What kinds of positions can they hold? Should I leave the telephone on the table? The ignorance is too much. The play 'Clowns at the HR Department' which we created, shows what parameters we can employ within a company that has a deaf person," adds Rimar.
In continuity, the two siblings who are actors also offer tips on having a good relationship: "Deaf people are visual. Shouting is of no use, unless one is in front of them. If there is a switch nearby, turning the light on and off is a part of the deaf culture", explains Sueli. "Or you have to go near to the deaf person to call him/her. It is also important that all employees know at least the basic words in LIBRAS. 'Hi, how are you doing?' is a greeting that allows us to be inserted into society," he completes.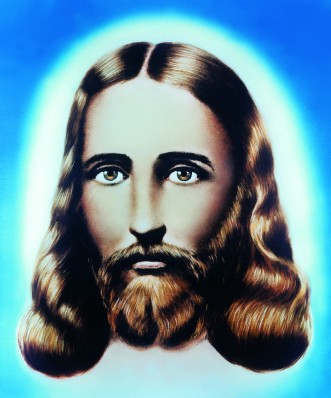 Finally, actor Rimar Segala revealed a coincidence involving the image of Jesus, the Ecumenical Christ, very well disseminated by the LGW. "When I was a child I always saw a very important symbol on television: the image of Jesus Christ. Today I see the same image here. I want to thank the LGW, because it is fundamental that all Brazilians think of inclusion. I am very grateful. Congratulations!"
Thank you both for sharing so much perseverance and courage. A life experience that will certainly inspire many people, for it being an incredible journey to a universe that is silent, but replete with the most expressive sounds in the soul of those who listen with their hearts.